Best-selling Aluminum Profile Furniture Series
Wine Glass Holder
Made of high-quality aluminum material, the surface undergoes polishing and oxidation treatment, which can be used for polishing, wire drawing, and spraying processes. The appearance and feel are delicate and exquisite, and various cup shapes are easy to store. The design with the cup mouth facing downwards not only looks fashionable, but also ensures that no water droplets remain after cleaning the cup.
The cup always maintains a dry environment, and bacteria are not easy to breed. The bottom of the cup groove is curved and matches the bottom, making it easy to take. The color can be customized to match the color of the cabinet and laminated profiles, creating an overall feel.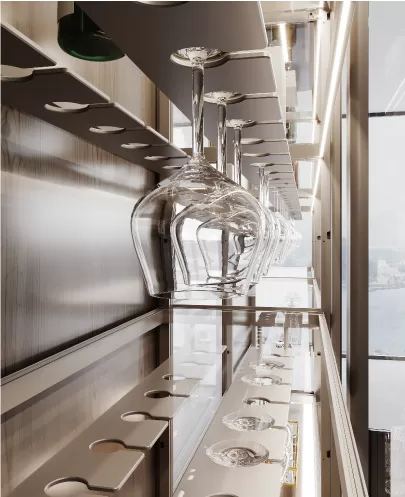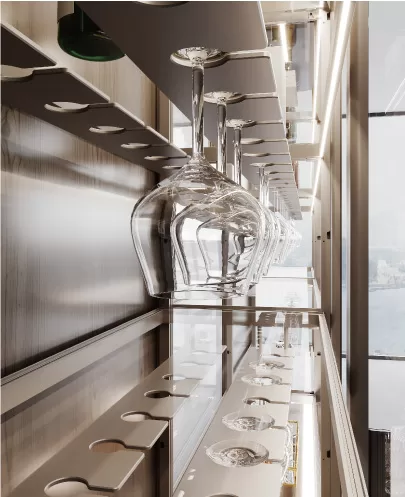 ---
Wine Grid Layer Board
This product is used for the storage and display of red wine. The thickened round tube material design has strong load-bearing capacity, and can be installed horizontally or diagonally. Leather round tubes are optional to prevent friction, and various display forms create a sense of quality The wall thickness of the aluminum frame is 2.5mm, and the wall thickness of the circular tube can reach 1.8mm.
The frame is made of aluminum alloy material, and the surface can be polished and oxidized, and the handle oxidation process can be carried out. It can be displayed diagonally (15-30 °), The cabinet profile adopts a buckle fixing design, making it easy to adjust the position and install The color can be customized to match the color of the cabinet profile.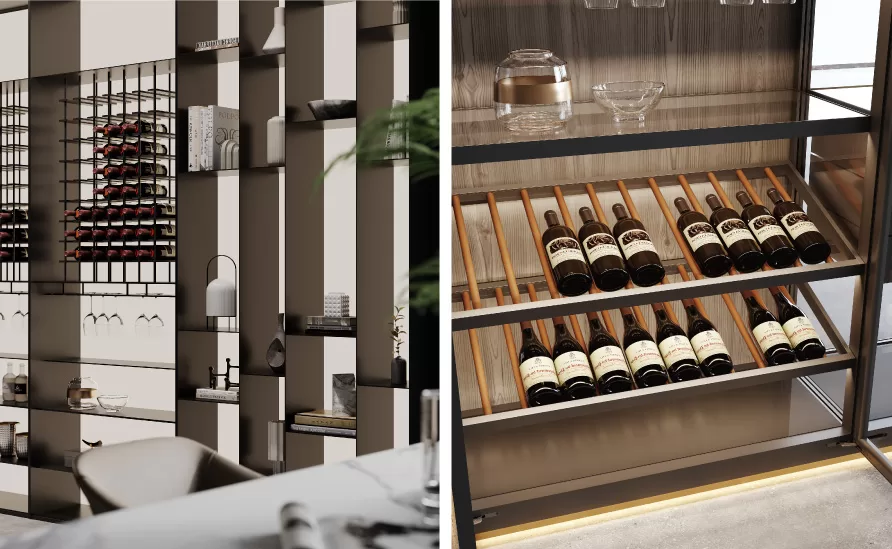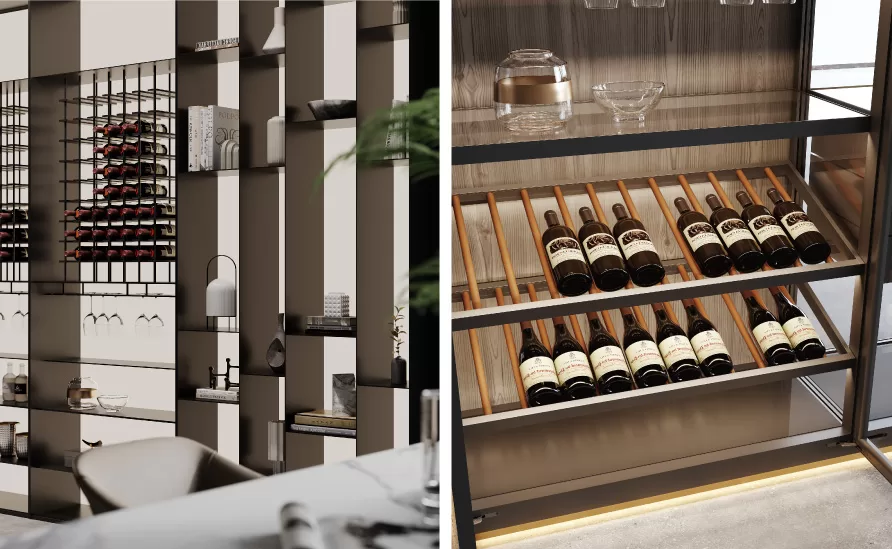 ---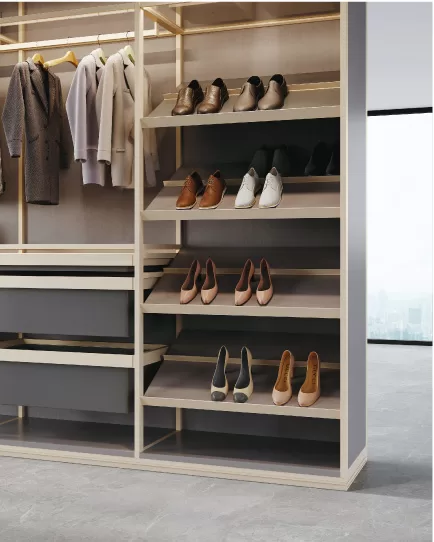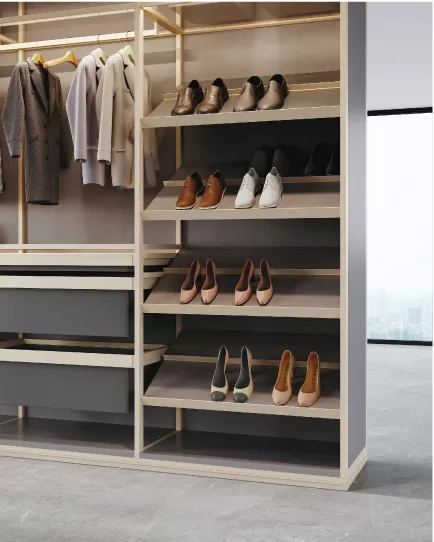 Shoe Layer Board
This product is used for storing and showcasing footwear, with a metal frame with rounded corners and a wooden board as the sole to create a high-quality texture The frame is made of matte gold aluminum alloy material, with surface spraying technology and scratch protection, prevent rusting can tilt 15 ° -30 ° for better display effect 25mm wood veneer enhances a warm and moist texture
Metal Shoe Rack Board
Snap-on type and back plate fixation, modular embedded back plate, spare parts hidden without exposure, height can be adjusted according to preferences, giving footwear products the best display. The frame is made of high-quality aluminum alloy, and the surface is pre-oxidized, which is not easy to oxidize snap design, press-to-install seam securely, no shaking, The size can be customized and cut at will.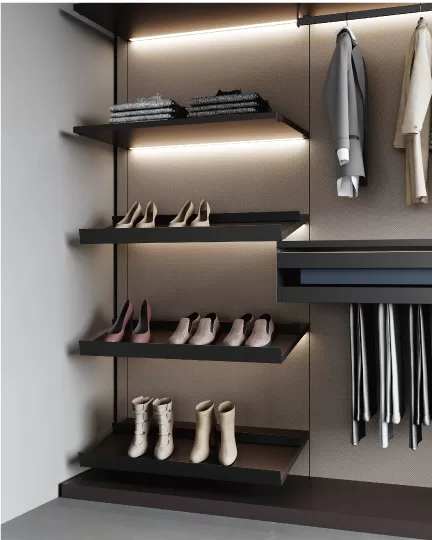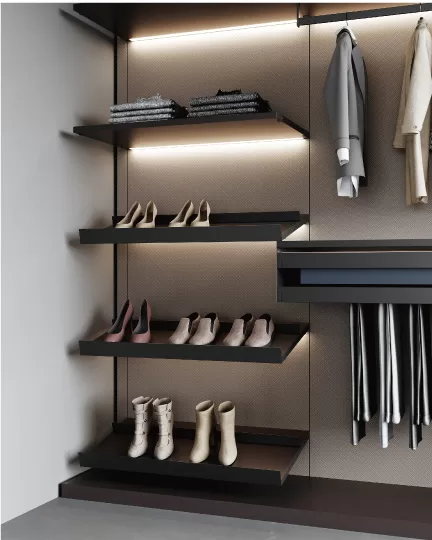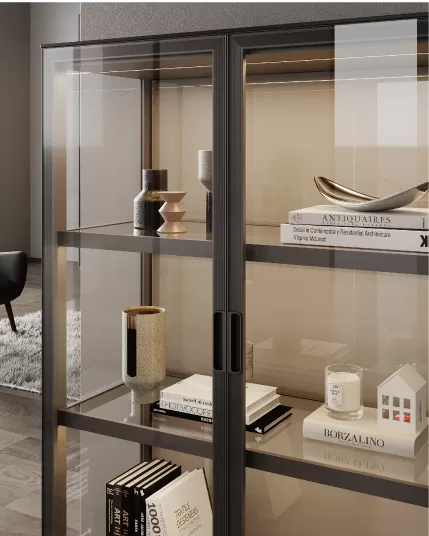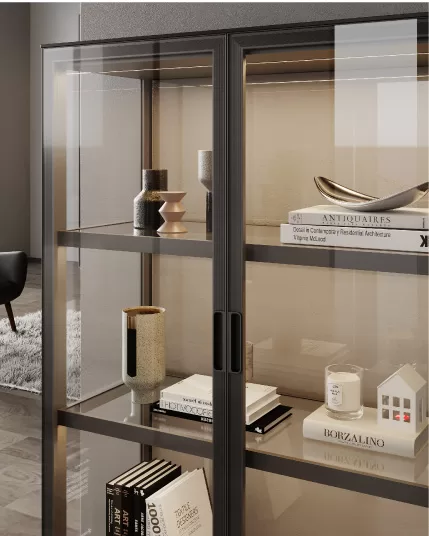 Aluminum Frame Glass Door K3160
The frame is made of high-quality aluminum material, and the surface is polished and oxidized, and it can be polished oxidation, wire drawing oxidation and spraying process. With embedded handles, the handles are polished with rounded corners, and the 5mm glass fits the profile, with a
flat appearance and a delicate and delicate feel, creating a sense of fine quality. The color can be customized and can be the same color as the column.
---
High kitchen Cabinets
Heightened cabinets fit smaller kitchens, freeing up more space for food and cutlery storage. This set of high kitchen cabinets is designed with a combination of needle hinged glass doors and metal seasoning racks. Both sides are decorated with metal glass cabinets and a metal seasoning rack in the middle, paired with a luminous back panel, making the entire space brighter and more transparent. With an open layout and refined storage methods, the messy bottles and jars are instantly organized, and the height can be selected within 2700mm.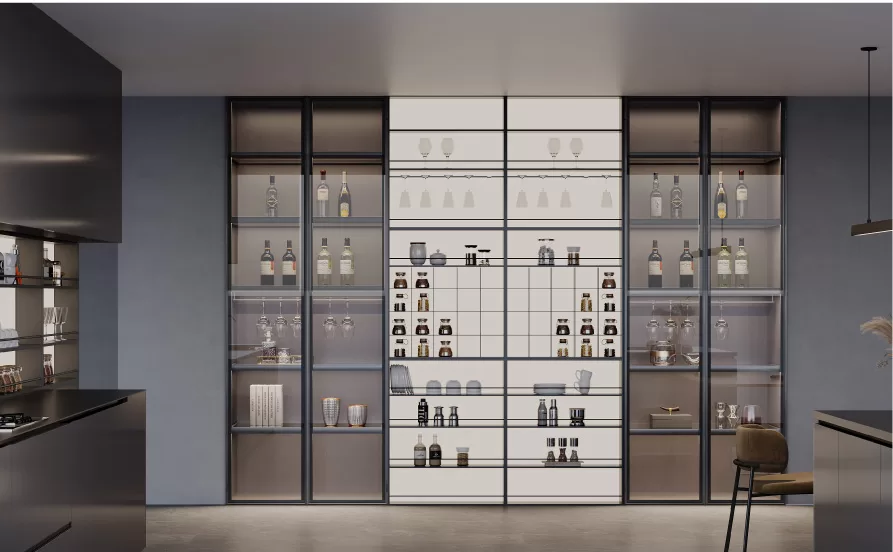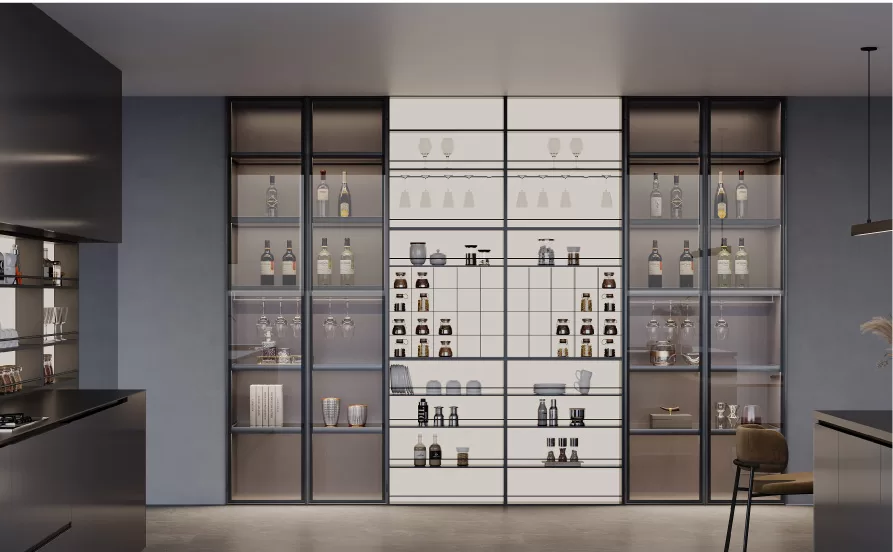 ---
Minimalist Table
This Italian style rock board minimalist table has simple and smooth lines. The rock board countertop is paired with painted corners, and different elements collide to create a new aesthetic. The white rock board countertop gives the restaurant more dreamy colors, allowing you to enjoy it whether it's dining with family or handcrafting or painting with children.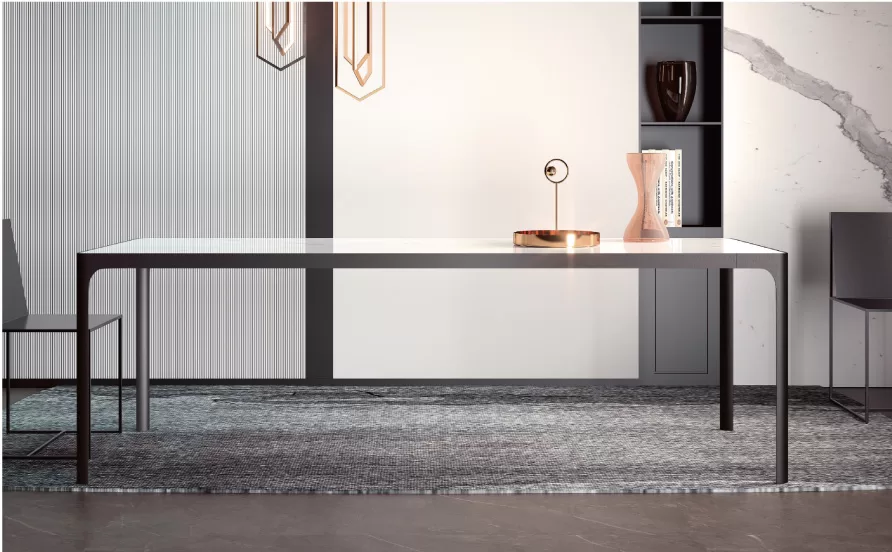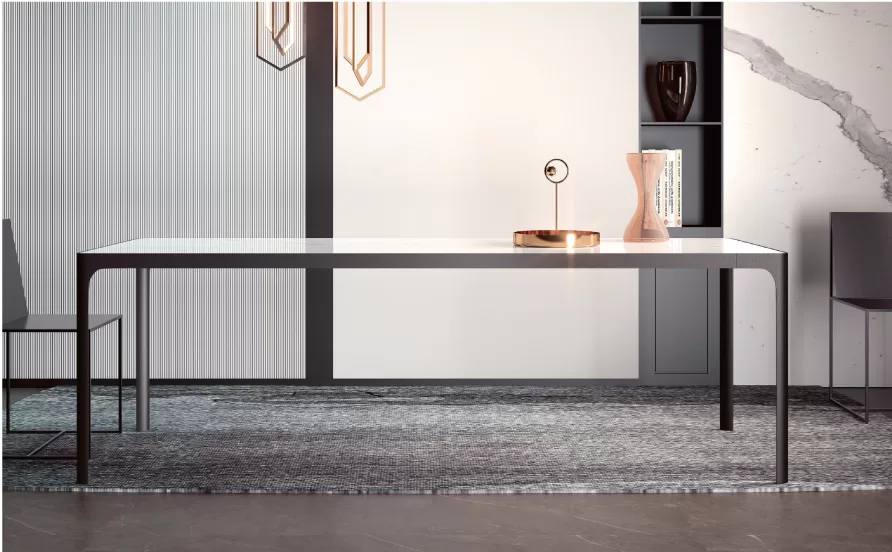 ---
Multifunctional Aluminum Wood Clothing
What does a beloved cloakroom look like? Let me take you to learn about the Jinluoka aluminum wood wardrobe. The gold aluminum frame surface is finely brushed, paired with a wood grain color back panel, making the entire cloakroom shine. The open layout and multi-dimensional display method, whether it is the storage of treasures or the placement of exquisite items, are all the best love for life. This multifunctional aluminum wooden garment integrates functions such as wardrobe, bookcase, drawer, shoe cabinet, etc.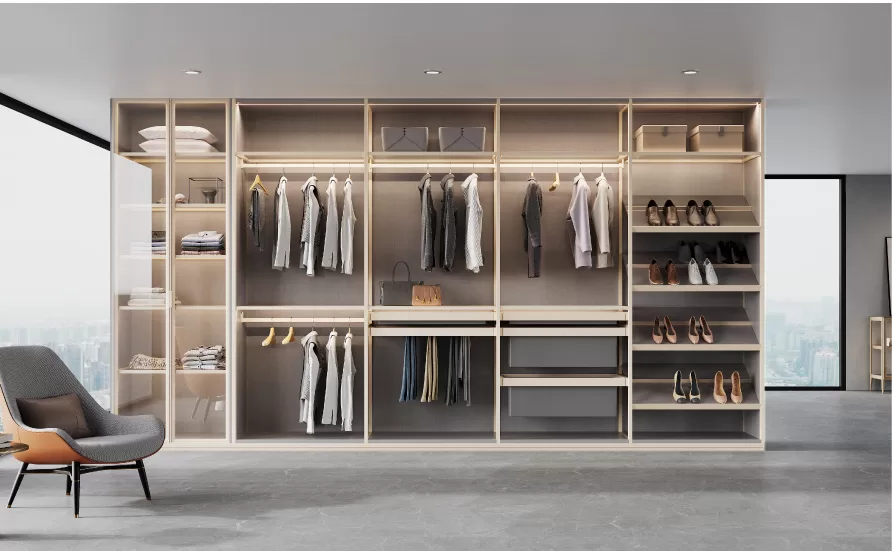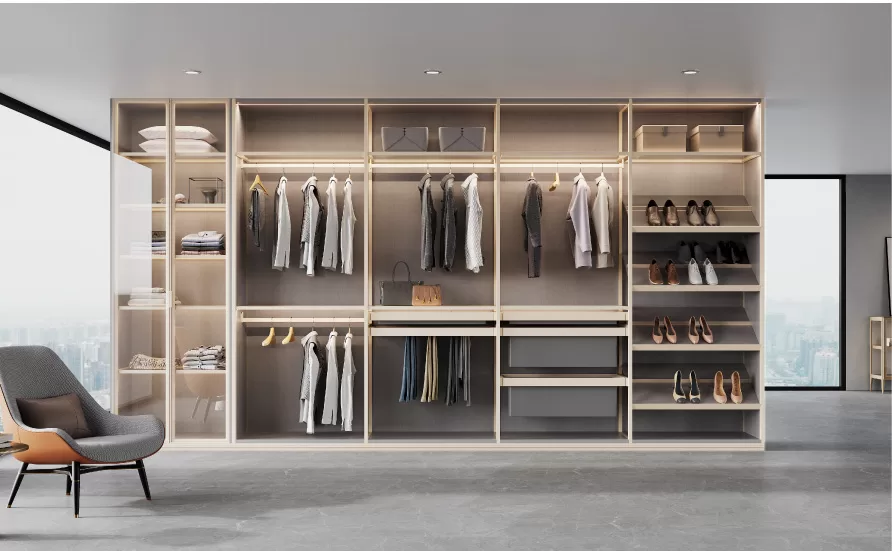 ---
Glass Sideboard
The whole cabinet adopts aluminum alloy structure design, transparent glass door assisted with built-in handle and universal door hinge, style simple and elegant, 900mm cabinet height plus single layer of glass, you can put your favorite cutlery willfully, under the illumination of the light, the atmosphere is instantly filled, this design do you like ?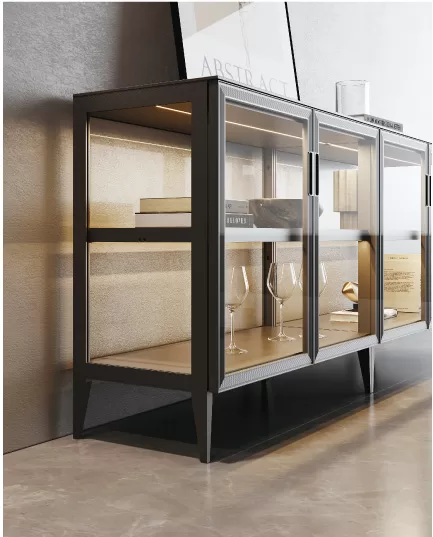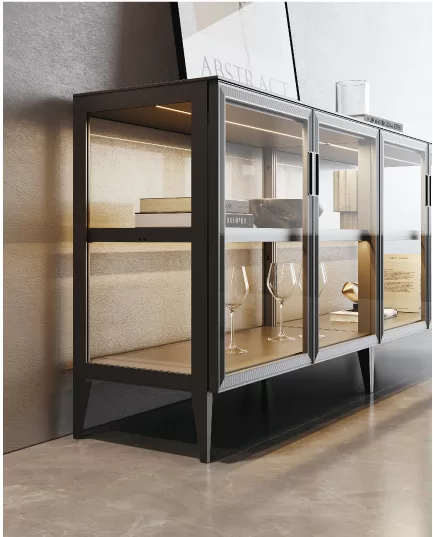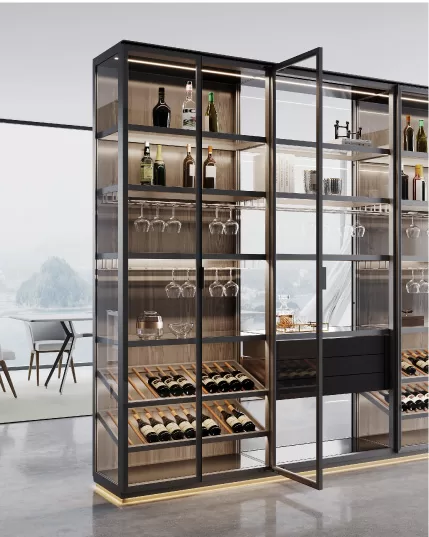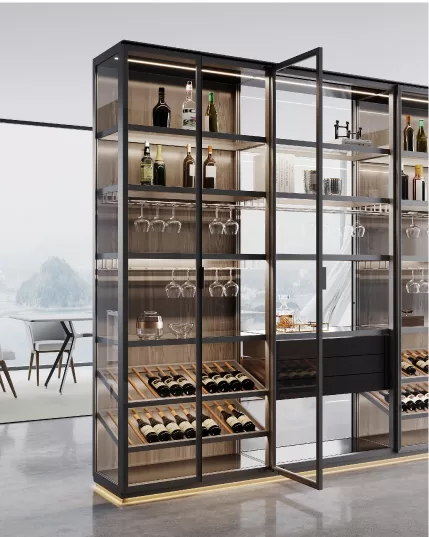 Glass Wine Cabinet
This glass wine cabinet adopts an aluminum profile and full glass design,with a champagne gold frame and transparent glass door panel, highlighting nobility. It not only meets the
pursuit of high beauty for contemporary young people,but also showcases the product's expressive power. It is equipped with two luminescent layers and two wine rack layers, allowing the wine glass and wine to be stored at will. Combined with the lighting inside the cabinet, the entire wine cabinet becomes luxurious, making the entire space rich and interesting. This glass wine cabinet,you deserve it !
---
Screen
Our screen features a mocha brown extremely narrow frame paired with ultra-high tempered wire glass, light can be seen but person can't be seen , quiet and profound, adding a bit of mystery to the cloakroom, like a blind box that you can't wait to open. The ultra-high tempered glass is simple, beautiful and easy to clean, and the color and size can be customized according to personal preference and space size.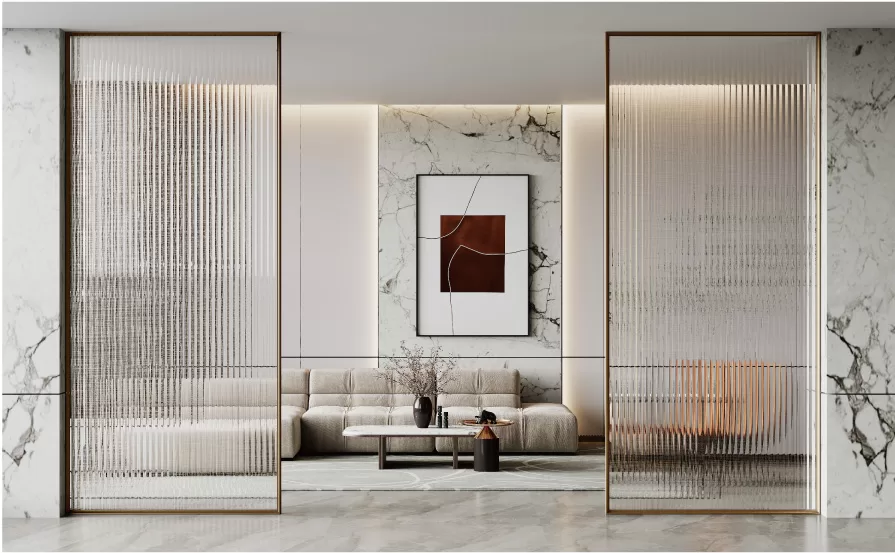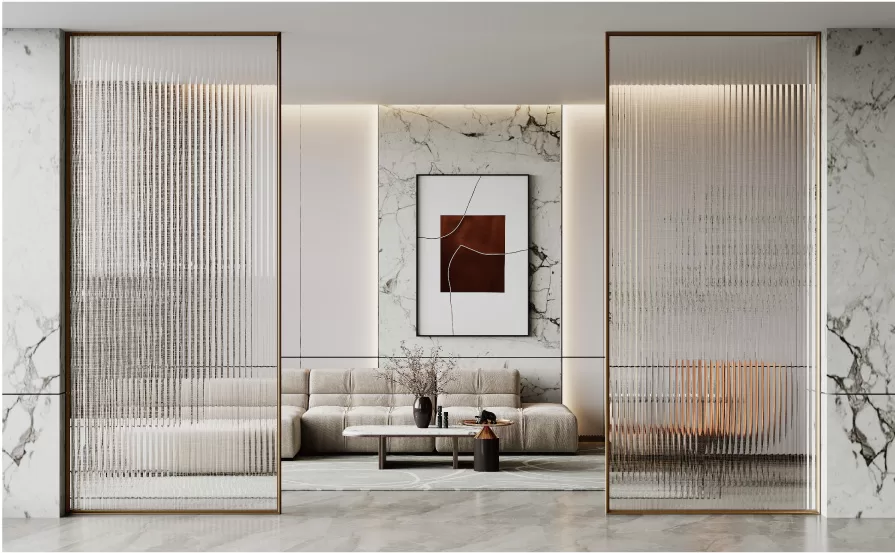 ---
Hanging Sliding Door
This Italian minimalist sliding door adopts the OPK new minimalist three in one mobile design, with a matte black extremely narrow aluminum frame and 8mm tempered glass plus explosion-proof film design, which can completely avoid the risk of glass breakage.

The left and right sliding and closing can accommodate two people at the same time. The push and pull design of upper track is not only easy and smooth, but also the elderly and children do not have the risk of tripping foot , making it more convenient for space hygiene cleaning.