Best-selling Aluminum Profile Furniture Series 2
Column System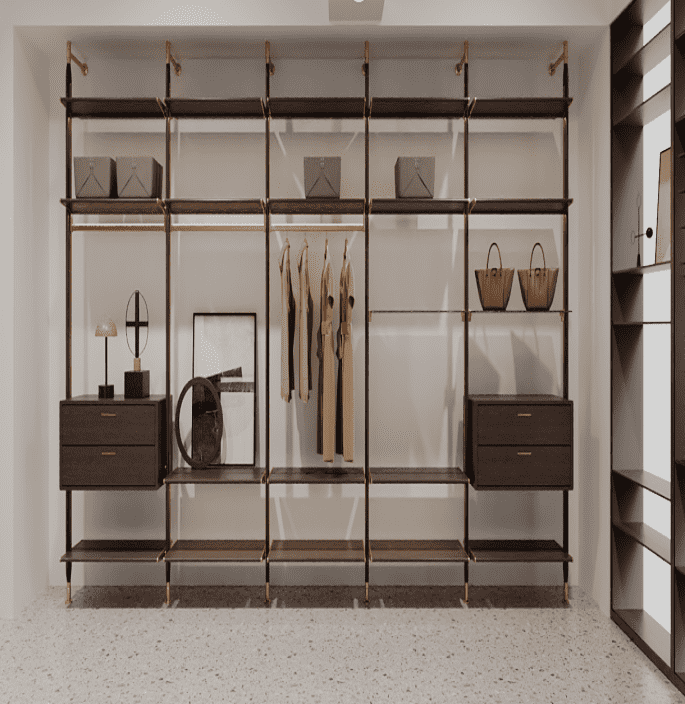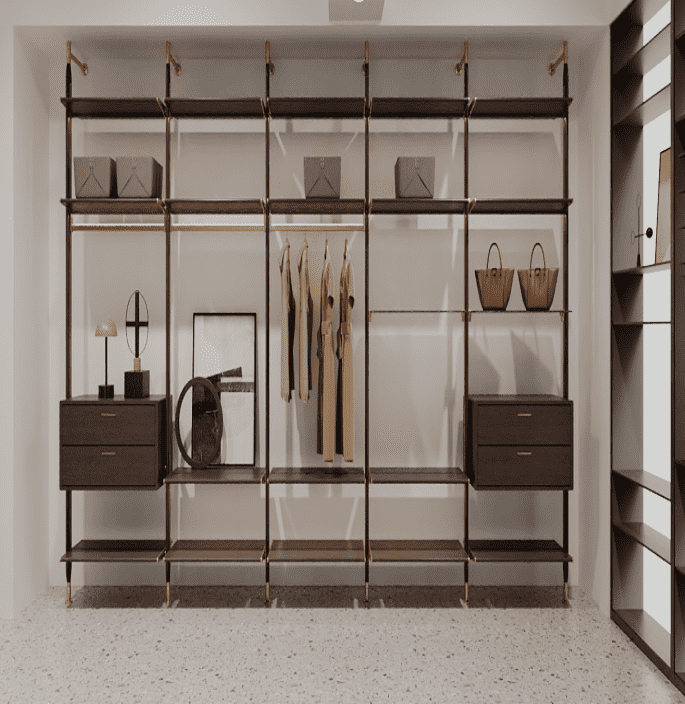 This Poliform column clothing and hat system adopts a top and bottom column without punching design, which does not damage the ground. The top column is fixed to the wall at 90 °, which is sturdy and stable. The black painted aluminum alloy column is matched with gold zinc alloy adjustment feet, and the top and bottom adjustment feet can be adjusted according to the ground. It is paired with a high-end oak veneer decorative layer board and two sets of symmetrical drawer cabinets, which can meet various storage functions and is equipped with a wireless lighting system, The combination of lighting and atmosphere creates an elegant and fashionable atmosphere.
Wall Hanging Cloakroom
This wall hanging system cloakroom is designed with aluminum alloy and wooden boards, with a dark back panel that is elegant and high-end. The 18mm layer board can withstand a weight of 150kg. The aluminumprofile clothing hanging rod allows you to hang even more coats without worrying about load-bearing issues. The bright layer board lights highlight the high-end and light luxury of the wardrobe. The multifunctional accessory storage box, leather basket, and three-layer silent pull-out drawer box easily achieve maximum storage.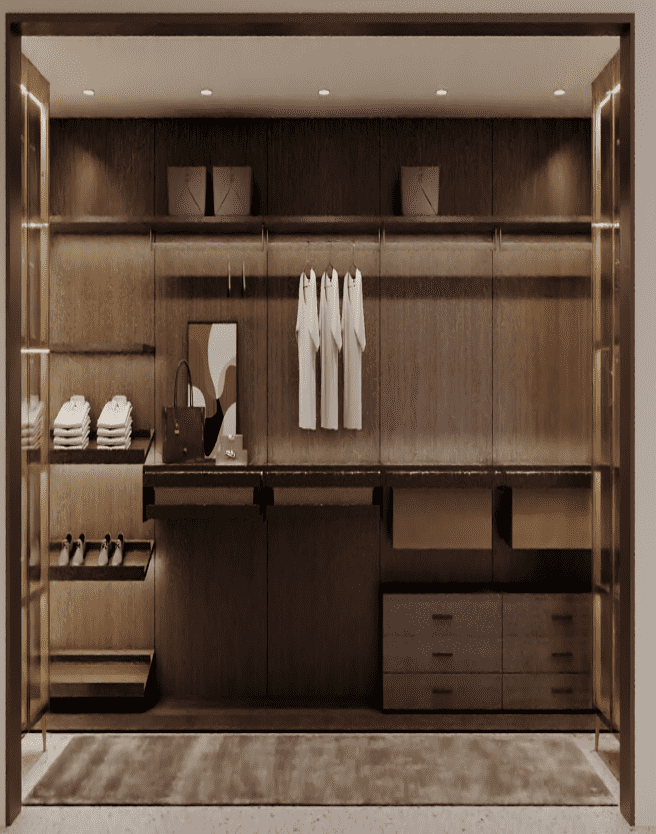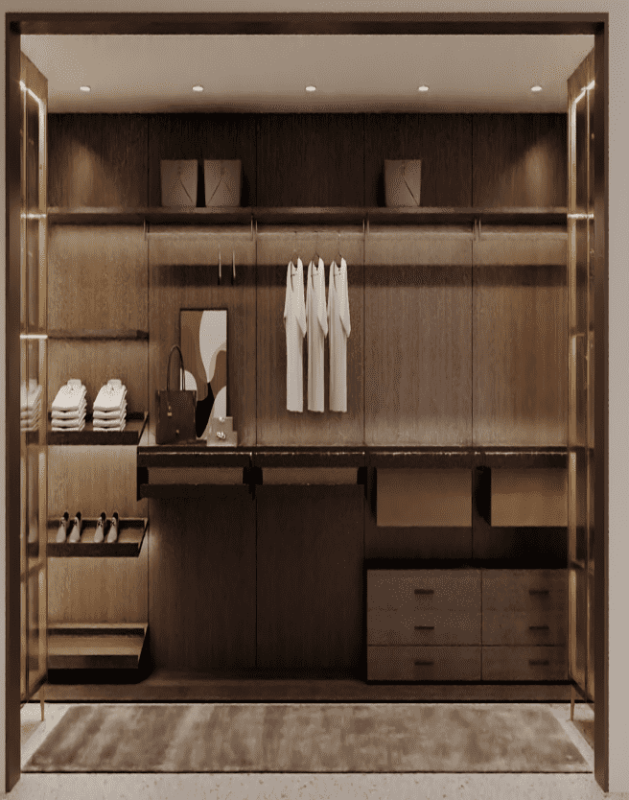 Kitchen Storage System
This kitchen storage system is definitely the most beautiful scenery in the kitchen. With an open layout, patchwork technology, smooth lines, exquisite appearance, and a refined storage method that integrates storage and display. With the embellishment of a luminous back panel, the entire cabinet is as dazzling as a diamond, instantly lightting the entire kitchen space. Follow me and take you to learn more about high-end products.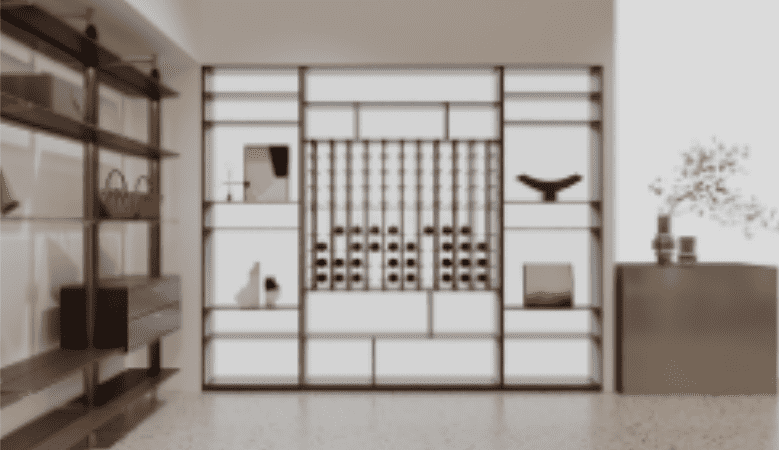 Half Height Glass Cabinet
What should a beautiful decorative cabinet look like? Look here, the KRC half height glass cabinet has a height of 1500mm and a width of 1000mm. It adopts an all aluminum+glass aluminum frame door design, and the door panel uses universal hinges, which is lightweight and smooth. The top and bottom of the built-in double layer board are paired with white rock panels, and combined with the lighting inside the cabinet, the entire cabinet is luxurious and atmospheric. The high foot support at the bottom, which is greater than 15 cm, not only meets the stability of the cabinet, but also facilitates the entry and exit cleaning of the sweeping robot. Do you like it, pay attention to me.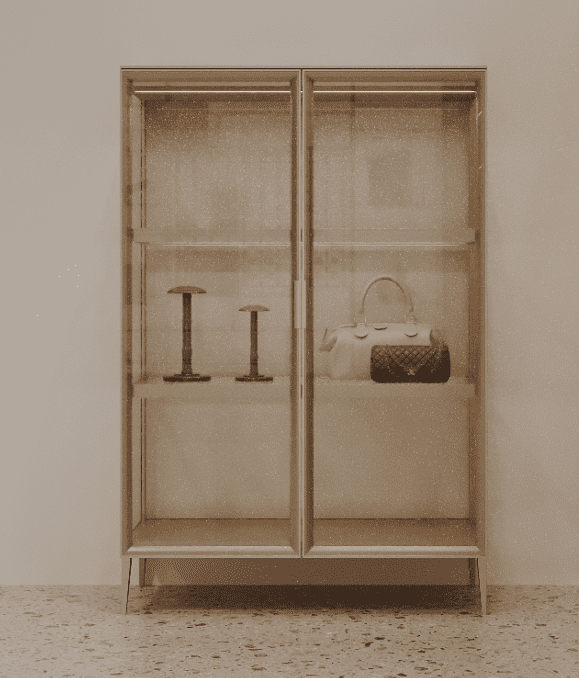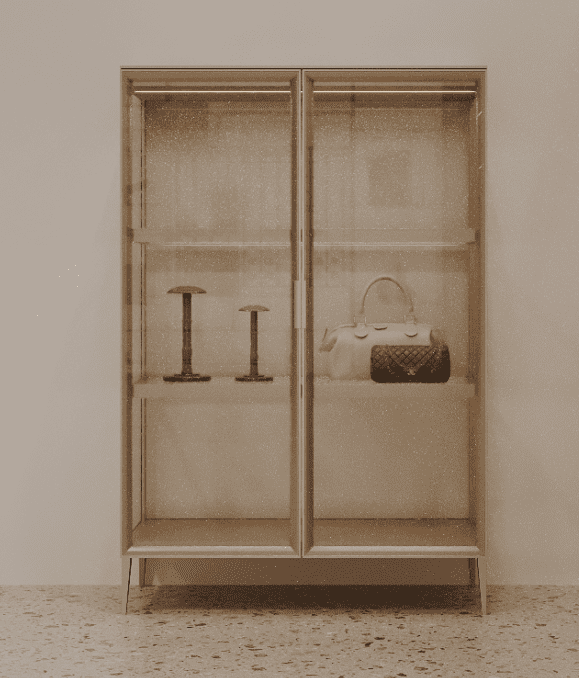 ---
Aluminum Frame Glass Door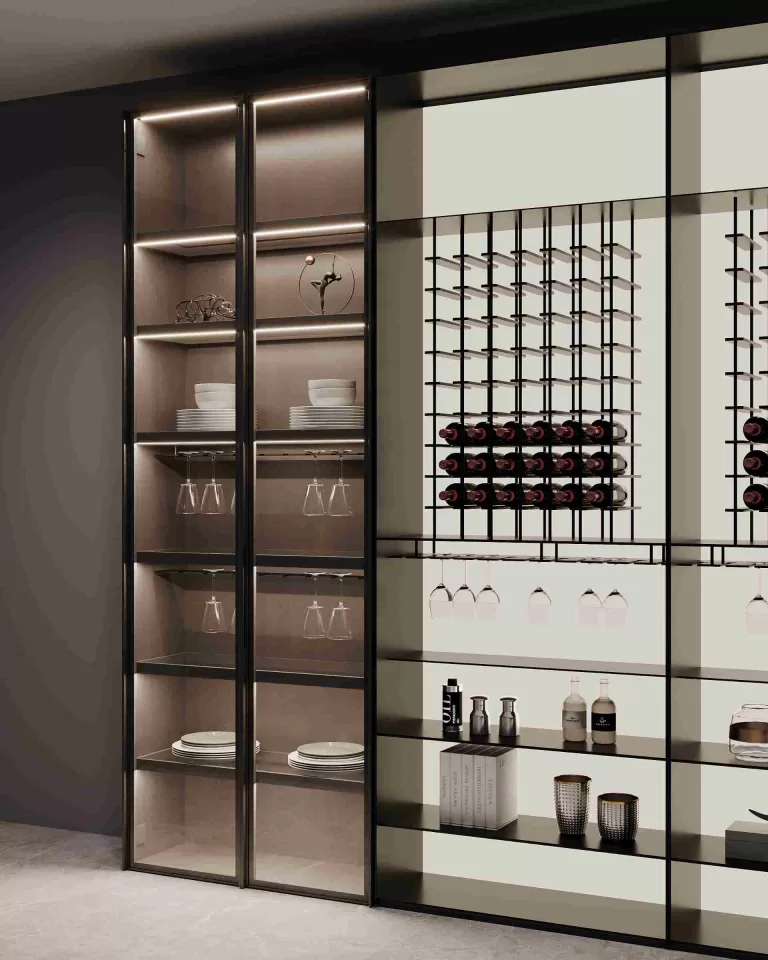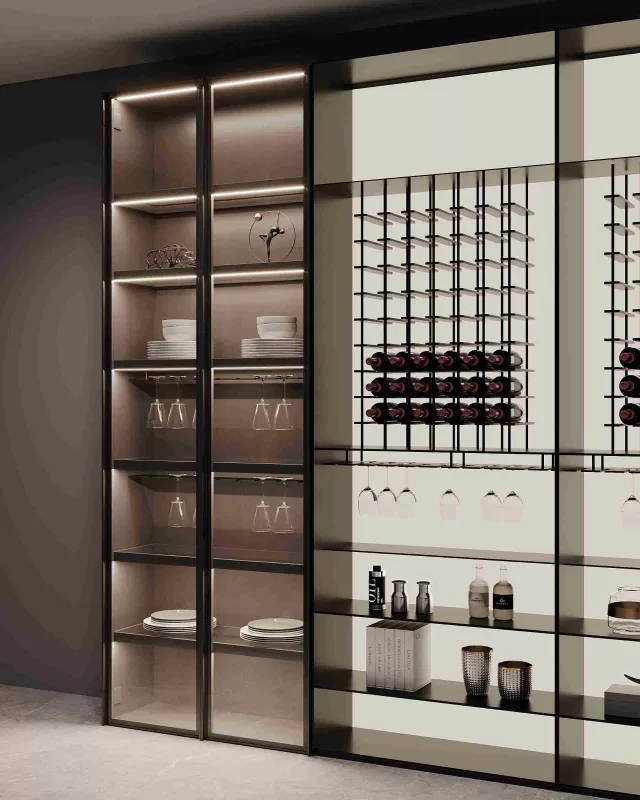 The perfect fusion of glass and aluminum, the integrated design of door shape and handle, the ultimate simple straight line handle, combined with light and shadow art, allows the product to have no complex decoration or deliberate carving, but carries a natural elegance, paired with Italian imported universal door hinges, 105 °open at will, lightweight, and noiseless.
Made of high-quality aluminum material with oxidation treatment on the surface, it can be used for polishing oxidation, wire drawing oxidation, and spraying processes. Equipped with 5mm glass and LED lighting, it is sturdy and durable with strong load-bearing capacity. The appearance is minimalist, with a strong sense of lines and refinement. The wall thickness of the aluminum frame is 2.5mm, and the aluminum frame at the glass junction is 2mm thick. It is spliced at right angles and fixed internally with clips, ensuring high stability.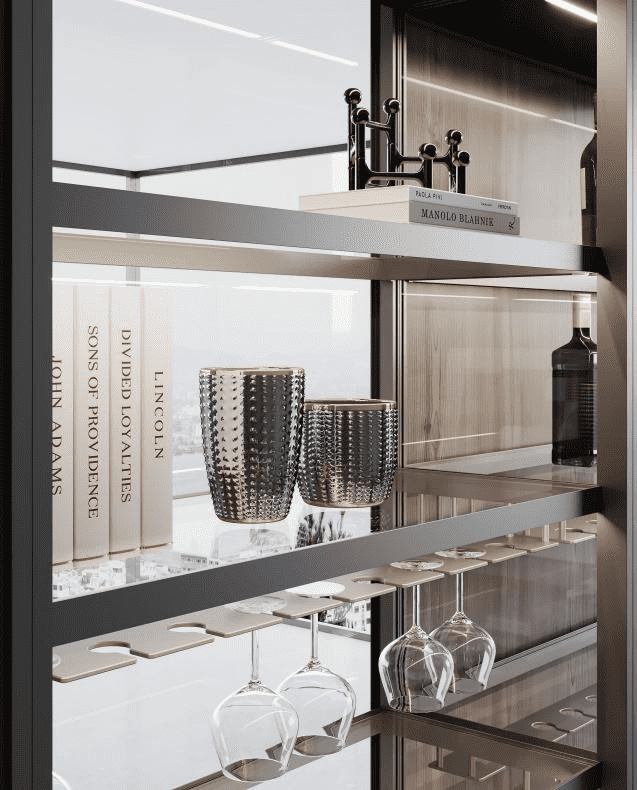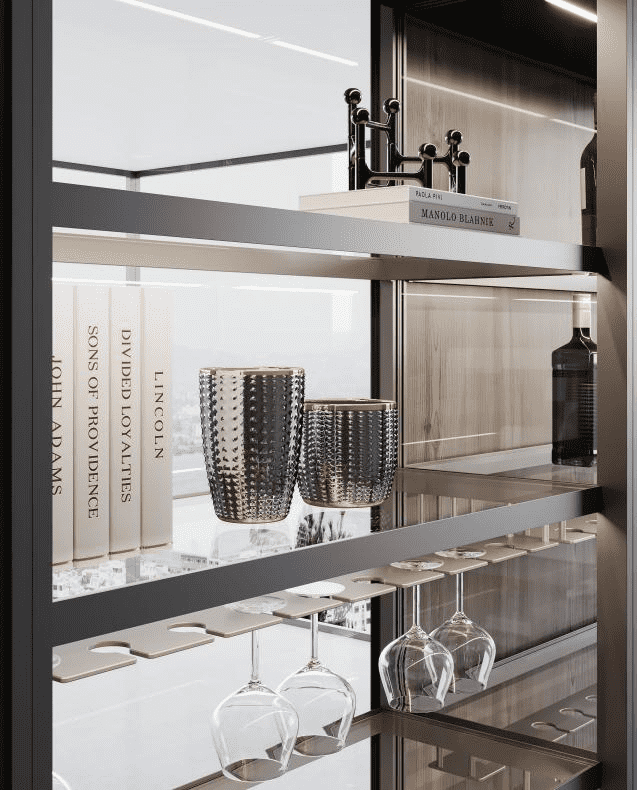 Aluminum Frame Glass Door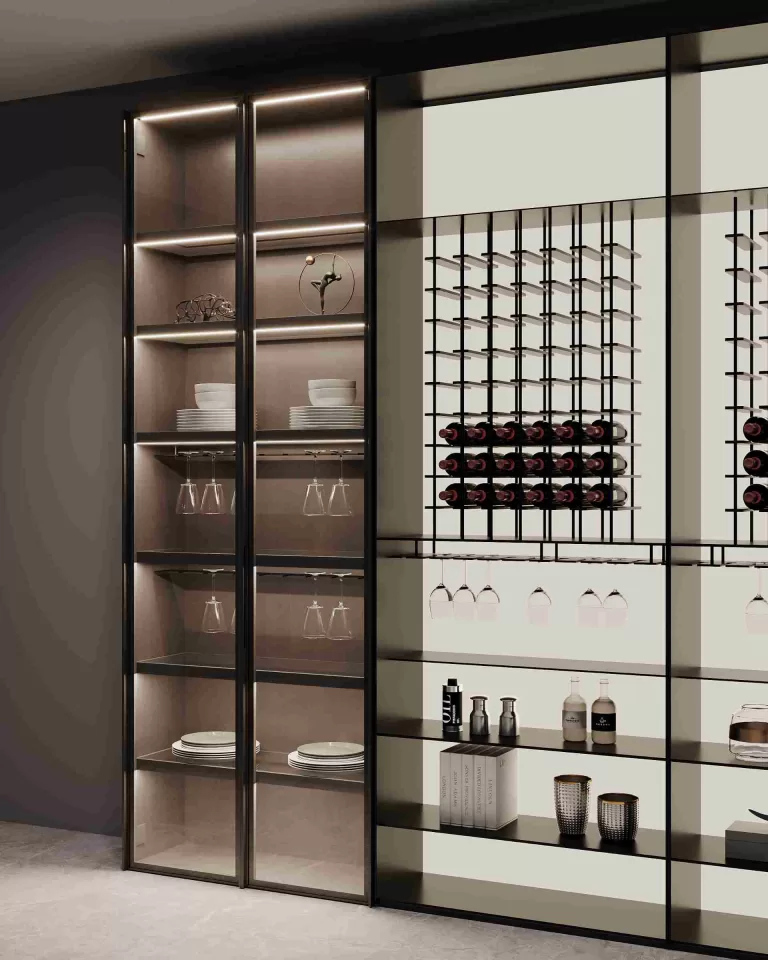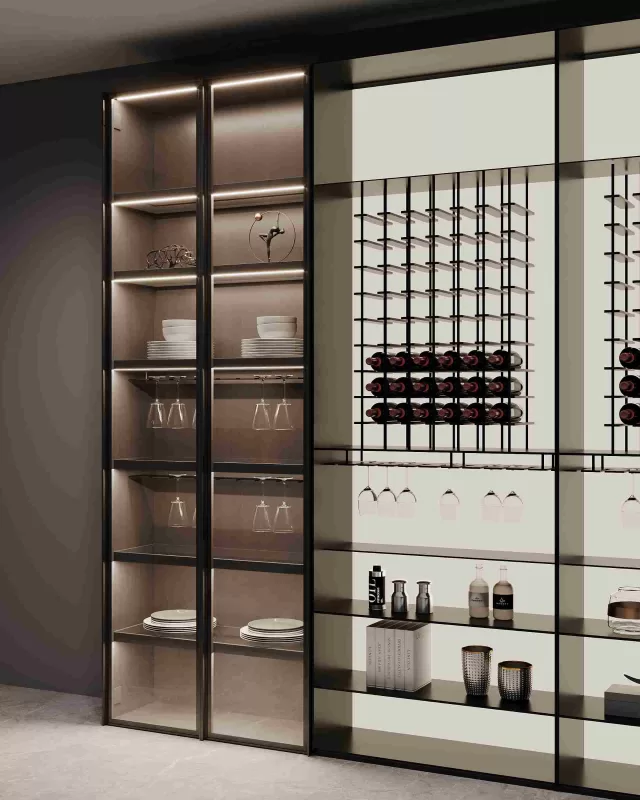 The hinged glass door of the Italian imported universal door, which can be opened at any angle of 105 °, is lightweight and noiseless. It adopts a straight handle, with a length of 128mm. The handle is rounded and polished into a bullet shaped shape, with a simple and elegant appearance and a delicate and exquisite touch, making it eye-catching. The handle of the needle inserted hinge glass door handle is concave polished, presenting an extremely narrow line feeling, simple and elegant, with a delicate and exquisite feel, creating a high-quality texture.
Universal Door Hinge
Italy imported Akde lightweight hinge, made of high-quality aluminum alloy and manganese steel (special treatment) material, with a surface treated with black mirrors, exquisite and compact, sturdy and durable, and strong load-bearing capacity
Opening angle: 105 °, suitable for 18-32mm wooden doors and aluminum frame doors.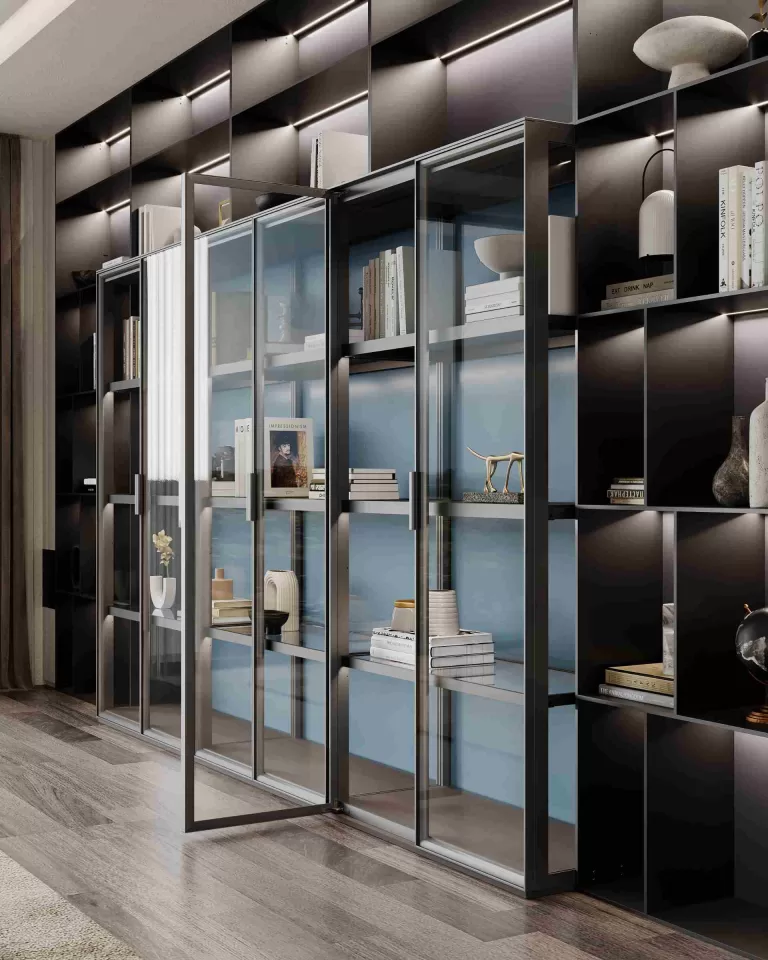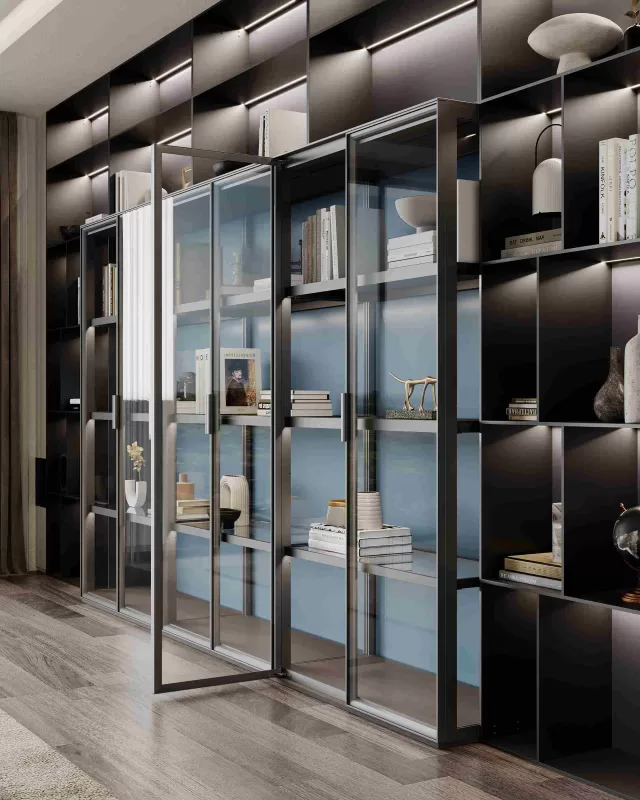 ---
Aluminum Wood Cloakroom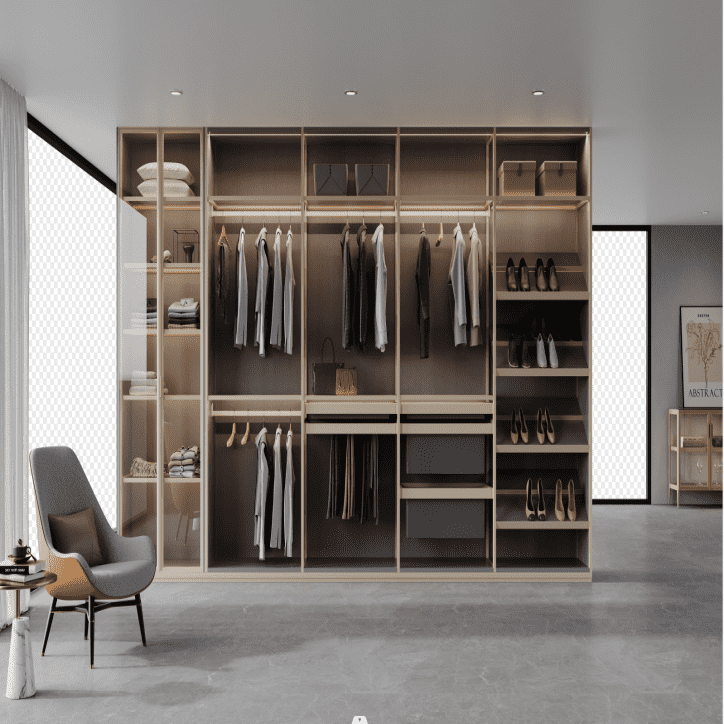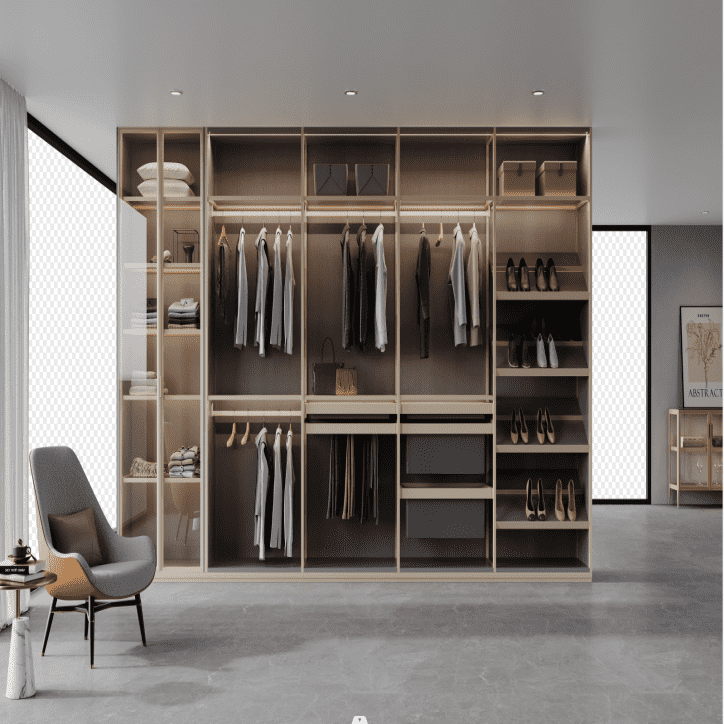 Bringing metal aluminum panels into the space, the ultra simple visual cold touch combines with warm wood, create a minimalist and luxurious space atmosphere. Derive an elegant quality of life. In terms of color: Decorate the space with wood grain, leather, and warm lighting, reflecting the minimalist quality of Italian style. Materials such as metal, wood veneer, leather, glass, etc, are integrated together, and lighting embellishes the space, making it harmonious and layered.
Luminous Laminated Shelf
Adopting the invisible card slot wall hanging process, using 3mm thick L-shaped aluminum alloy material, the surface is sprayed or oxidized, and can be used for polishing oxidation, brush oxidation process, or spraying process. The appearance and feel are delicate and exquisite, with the light strip hidden on the aluminum alloy back, no light spots on both sides, emitting light from top to bottom, creating a minimalist house atmosphere. Grinding and rounding of the cross-section without scratching hands. Standardized fixed position, increasing fixed position according to length to ensure stability. Colors can be customized.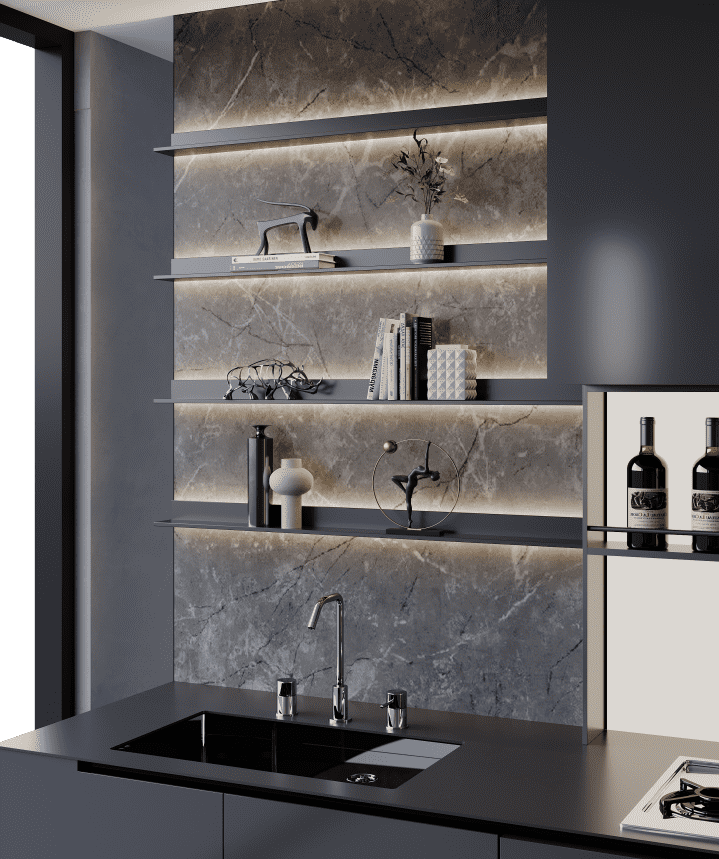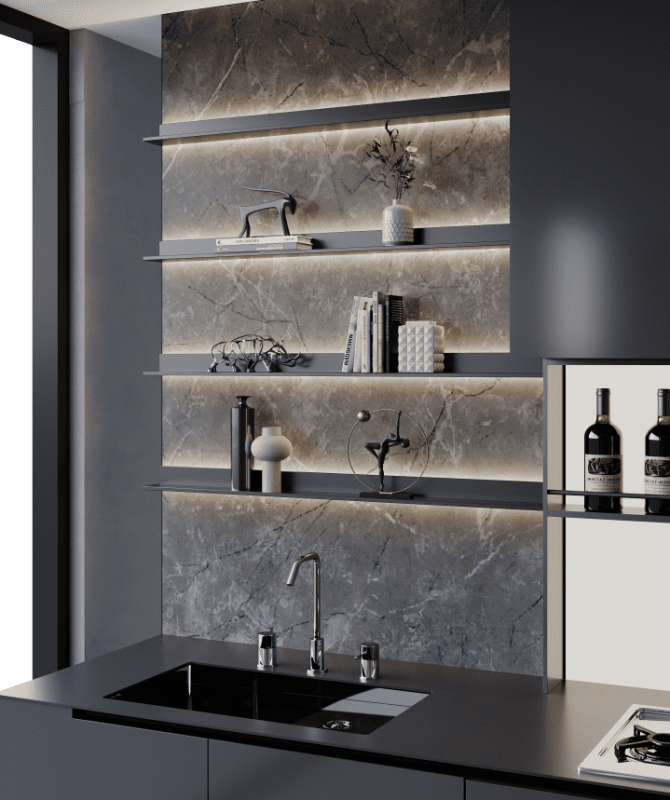 Glass Wine Cabinet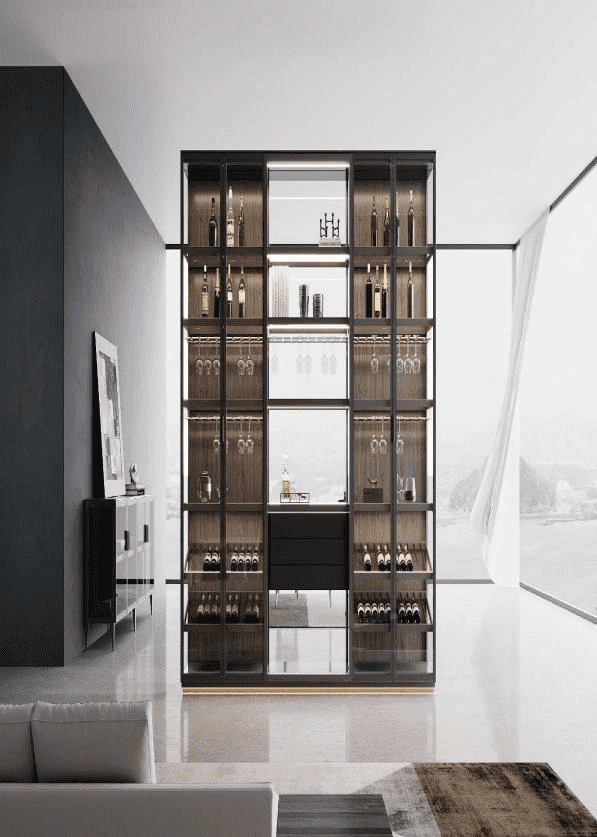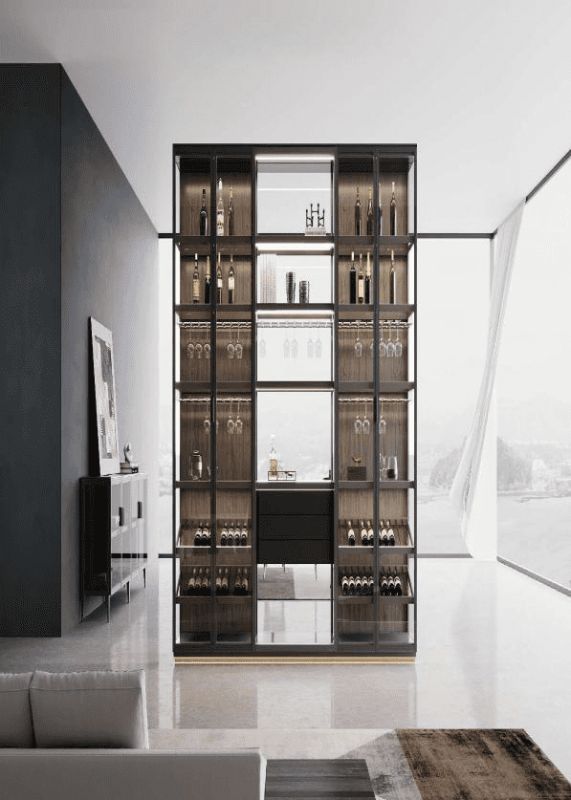 The combination design of open and glass cabinet doors meets the aesthetic requirements while increasing transparency, adding a sense of hierarchy to the space. Interpreting the complementarity between parts and the whole with a light and luxurious approach, integrating the wine cabinet and dining side cabinet into one, increasing functionality and enriching the fun of the space. The symmetrical layout has a clear hierarchy, coupled with embedded lighting, creating a pure sense of detail in daily life.
Glass Wardrobe Space
Abandoning traditional wardrobe forms and focusing on aluminum framed glass cabinets, with a 360 °fully transparent glass design and a 360 °fully transparent design combined with intelligent lighting systems. The combination of multiple modules meets multifunctional use and can be paired with various storage features, providing a comprehensive and showcasing storage solution for modern elites. The glass cabinet door plays a dustproof and transparent role, showcasing the hanging area, stacking area, and jewelry storage area one by one, enhancing its visual expression and giving the appearance a rich sense of hierarchy.